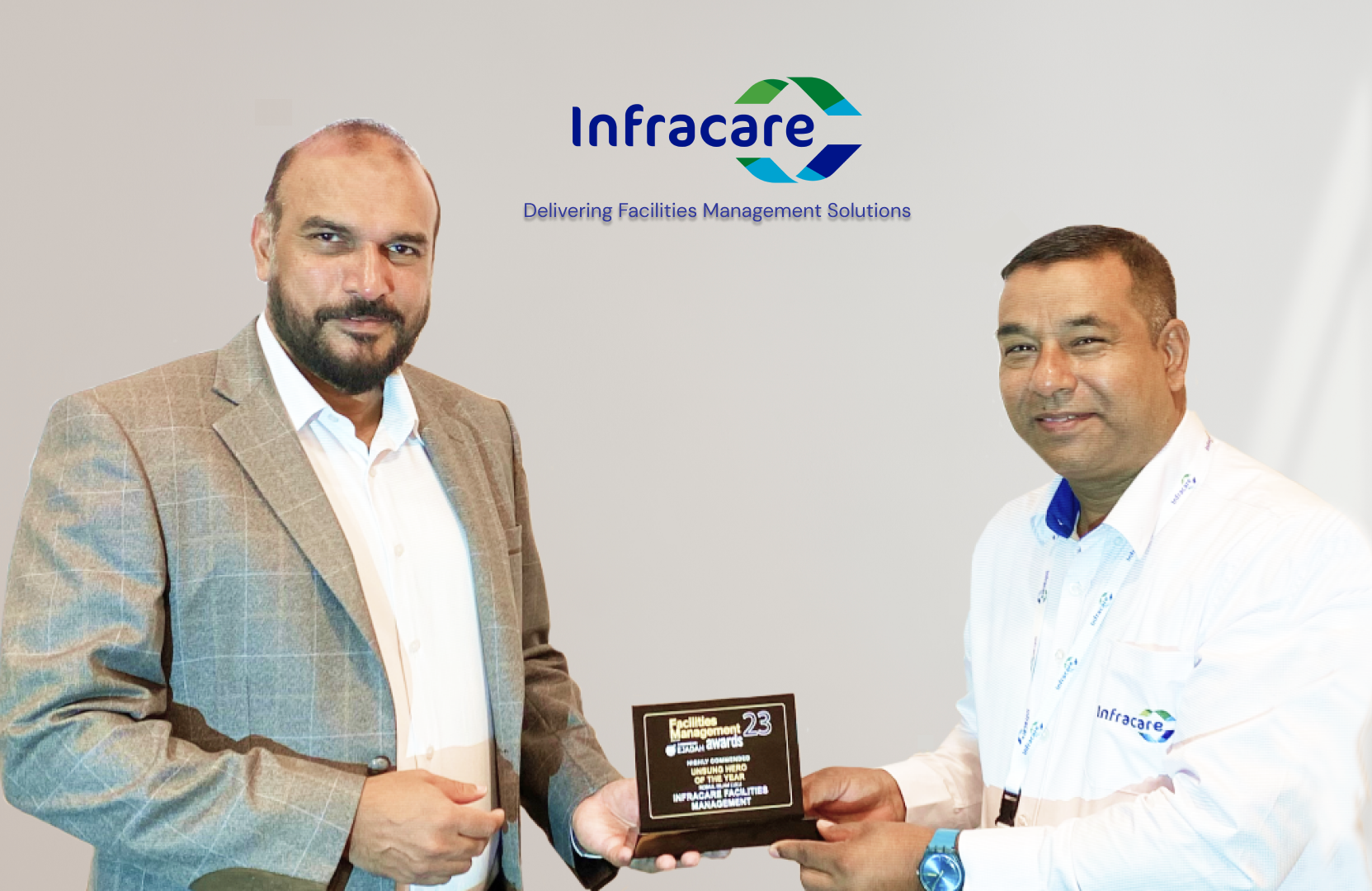 Robiul Islam Lulu honored with Highly Commended Award at FM Middle East Awards 2023
Dubai, United Arab Emirates

Robiul Islam Lulu, a dedicated member of Infracare's cleaning division, has been honored with the prestigious Highly Commended Award at the FM Middle East Awards 2023. This award is in recognition of Lulu's outstanding bravery and quick thinking during a recent fire outbreak at one of Infracare's customer facilities.

Despite his role in the cleaning division, Lulu displayed great bravery and played a pivotal role in saving the facility from a severe fire. Reacting swiftly and effectively to the fire alarm, he quickly organized his fellow operatives and hurried to the incident location. Together with the security guards and support staff, Lulu distributed fire extinguishers and successfully controlled the fire, minimizing its impact.

When asked for his advice on safety, Robiul responded, "Ensure fire safety, save lives, and protect property. Let us strive for a future without such incidents. Teach someone about fire safety today."

Robiul and his team were also honored by the customer for their prompt and effective actions in ensuring the safety of all individuals involved during the incident. The customer expressed their sincere appreciation for their efforts and performance.

Mr. Altaf Abdulkalam, Head of Operations at Infracare, commended Robiul, stating, "We are immensely proud to have Robiul as part of our team. The quick instructions he provided to our on-site team during the incident display his exceptional training and profound respect for our customer's facility. We appreciate his proactive approach, which sets an excellent example for others, emphasizing the crucial role of safety within facilities and the importance of taking appropriate action."

The FM Middle East Awards are renowned for recognizing outstanding individuals and organizations in the facility management industry. Robiul Islam Lulu's well-deserved recognition as a Highly Commended awardee serves as a testament to his remarkable commitment to his role at Infracare.
About Infracare:
Infracare is a leading facility management company known for its commitment to delivering comprehensive and high-quality services across various industries. With a strong focus on customer satisfaction and operational excellence, Infracare continues to redefine the standards of facility management.

For more information about Infracare and its services, please visit their website at www.infracare.ae.

Contact:
Infracare Facilities Management
Email: [email protected]
Phone: +971 4 384 1777